What is this list?
Everyone and their mother has a 'best games of the year' list. The following list is probably the realest list you will read this year. Not a just recap of hits from 2019 but a time and space transcendent list of wildcard games that got play time in The RadCade during 2019. These are the games that killed some time and left an impression. I bought a PS4 in 2019 after not having owned a console since the PS2. I spent a lot of time at the
The Video Game Mueseum
working on my game projects and checking out the extensive library hosted at the muesuem. Why these games? real talk, the market is flooded with games. Probably more than you can play in an entire life time. The release cycle is frequent enough now that there's probably more games released than you can play in a year. Some of these games have been sitting un-played in my steam library. Some of these games have been in my backlog to play for a while. The following list is not presented in any score based order but more a chronological order of how they where played throughout the year. Most of these games deserve their own separate post for this post I will keep brief summaries.
Catacomb Kids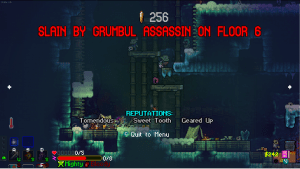 Catacomb kids is a 2D pixel art roguelike - platformer that is a total magnum opus of a single indie developer,
Tyriq Plummer
. Catacomb kids has a mind boggling number of gameplay sub-systems that interact with each-other to form a chaotic symphony of dungeon crawling. Due to the complexity of these subsystems Catacomb Kids can be punishingly hard on early plays. I spent the first few months 2019 living in a flop house after a breakup, playing Catacomb Kid runs as a distraction. Catacomb Kid's play sessions usually have a short 15-20 minute timespan, a nice bite sized casual timeblock to get in and out. Additionally, Catacomb Kids has a daily challenge to keep you coming back for more. in 2019 Catacomb Kids celebrated its 10th year of development.
The Catacomb Kid's Steam page
lists its release date as Feb 20, 2015. It is currently listed as Early Access and was available for play even before that. It is definitely worth the $15 listing price, thats an investment that will pay dividends. These years have been full of constant active development. Tyriq is constantly pushing new features and subsystems its worth checking in on the game to see it progress. Here's to 10 more!
Samurai Shodown - best fighting game of 2019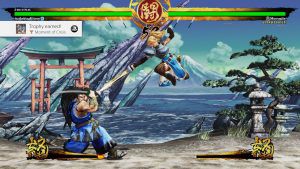 2019 was a year of fighting game tournaments for me. I previously had bare minimum fighting game experience, mainly SNES fighting games like Street Fighter 2, and Killer Instinct. I had played the previous Samurai Showdown games on emulators. I was glad to find that what skills I had from the old Samurai games were applicable to the newest installment. The Samurai Showdown games have more calculating and methodical pace than other fighting games. The matches depend less on technical execution and exploits than they do on genuine competitive psychology and opponent anticipation. Matches are about using normal attacks and looking for opportunities to punish your opponent. A good friend started inviting me to fighting game tournaments and hooked me up with a fight stick controller. I heard that a new Samurai Showdown was being released soon and I bought the aforementioned PS4 so that I could practice for tournament play. My main character is Charolette and I do not place well in tournaments. Fighting game culture and community is rad af though, and I'm looking forward to more tournaments in 2020.
Hollow Knight
[caption id="attachment_11278" align="alignnone" width="300"]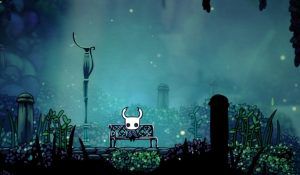 [/caption] This was my favorite game I played in 2019. I had been hearing buzz on this game for a few years. I got a swag bundle from a game jam that included Hollow Knight stickers this prompted me to finally to check it out. The story, universe and atmosphere are what really make Hollow Knight. It takes place in a grim dark post apocalyptic universe inhabited by intelligent insects. The music and artwork are hauntingly beautiful. Hollow Knight is a great example of the "show don't tell" method of world building and reminded me of
Mad Max Fury road
in that regard. There is a deep lore and back story to the universe of Hollow Knight that is never force fed to the player through dialogue. There is a large community of fans devoted to discussing the lore and universe. If you haven't played this game and are into the genre at all, I highly recommend it. I became obsessed with this game for a while and am starting to finally come out of it. The sequel Hollow Knight: Silksong is set to release in 2020 and will be an instant buy for me and most likely on the Raddest 2020 list.
The Messenger
After Hollow Knight I had a craving for more metroid-vanaia 2D platformers. I am a big fan of Devolver Digital and this game had been on my radar for some time. I recall seeing the developer post development progress on twitter before signing with Devolver. This game Rips! This is a speed-run playground. The Messenger is like
Ninja Gaiden
, its a total throwback. The soundtrack is fantastic and a good Gym pump playlist. The storyline is surprisingly comical and with a bit of dark humor.
Anodyne 2: Return to Dust
[caption id="attachment_11276" align="alignnone" width="300"]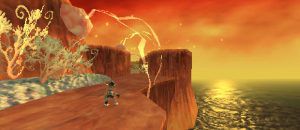 [/caption] This game actually came out in 2019! Anodyne 2 is underdog of the year in my opinion. It's a real masterpiece that was missing from many critics end of year lists, an unfortunate shame. Anodyne's game play is a mashup of 2D zelda-like + 3D platformer. The art work is beautiful, surreal, atmospheric and the soundtrack reflects these feelings as well. This game is really psychedelic, like you're playing a Salvador Dalí painting or an acid trip. The common theme between the Anodyne games is the surreal setting and the emotionally memorable characters and writing. You don't need to play the original Anodyne to enjoy Anodyne 2 they are separate universes. Maybe this will be on
YOUR
2020 rad game playlist.
The Simpsons: Bart's Nightmare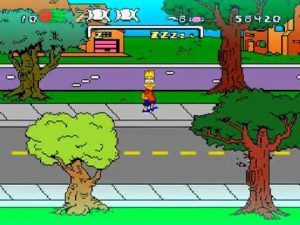 Let's be real, this game is a pretty big turd, nightmare is accurate. Why is this on the list? This is a game I played years ago as a rental and left an impression on me. I know you have similar games. Ptsd games. Some you played as an impressionable youth that traumatized you and haunt you to this day. After watching some
'lets play'
vids on YouTube I had to revisit it to gain closure. I fired this up at the museum to see if it was everything I feared. It's not a total disaster. The art is great the controls are smooth. It's just that all the mechanics are unique and unintuitive. To defeat enemies you jump over them and not on them. There's not a lot of indication on what the objective is. I played this game because I was fascinated with the life-bar system. if you lose all your life but the last hit, then you get a "health" power-up. The point on the screen where you touch the health pickup will then set the edge of your life-bar. This is hard to explain in a blog post and better observed in action. I'll leave that experiment to you.
Titanfall 2: kinda cool kind of a bummer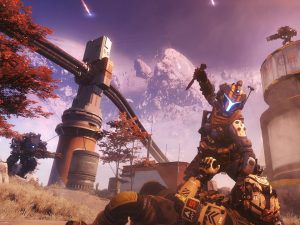 I bought this game cheap. It was one of those $5.00 "man can I afford to
not
buy this?". There was some deal on the
Cheap Ass Gamer
twitter. I heard generally positive sentiment about this game. I had not played Titanfall 1. I am a big fan of giant robot mecha worlds and was sold on that aspect of the Titanfall universe. This game was kind of a bummer for me. I played this game on the PS4 and imagine it is a much better experience on PC. Titanfall 2 has very precise and rapid movement tech and trying to perform it on a console controller proved to be difficult. I got through about half of the first level and rage quit for a week or 2 before returning. Don't play this game for the giant robot hype because about 80% of it is on foot Call of Duty clone game play. The environments and story line were really good but I feel like TitanFall 2 would have been a better movie than a game. I should add that I did not give the multi-player a try. I have heard very good things about TitanFall 2 multiplayer and in fact it is what launched Apex Legends. As I write this point I am getting FOMO and feel like checking out the multi-player later.
Ninja Saviors: Return of the Warriors
[caption id="attachment_11284" align="alignnone" width="300"]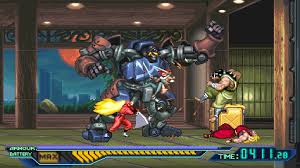 That big ass guy is a player character[/caption]
What a gem this game is. This is another 2019 release. I saw this game making the rounds on twitter from some prolific game critics, I went to buy it on the PS4 store but it wasn't available until a few months later. This is a fairly casual game that you can beat in a weekend, play through again, and play multiplayer with some buds. Ninja Saviors is a remake of the SNES game Ninja Warriors Return, which is a sequel of a rough 80s arcade game Ninja Warriors. The only thing you need to know about Ninja Warriors arcade is that the soundtrack is a ripper. Ninja Saviors is a unique mix of beat em up and fighting game. Unlike traditional beat em ups in which the player can move along the Z axis in pseudo 3d space. Ninja Saviors is fixed on the Z axis. This enables Jumping and blocking like that of a 2d fighting game. Ninja Saviors has 5 player characters to choose from. Each character has a unique move set and a bunch of hidden mechanics which add lots of depth to the gameplay and make it very fun to play and discover.
Into The Breach
[caption id="attachment_11286" align="alignnone" width="300"]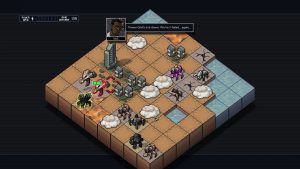 Isaac Jones bout to have a bad time[/caption]
Yo I am a sucker for turn based strategy. That shit gets me addicted. I will binge a good turn based strategy game. I think turn based strategy games capture the part of my brain that when left alone causes crippling anxiety. The same "if I do this what will happen" train of thought that leads to paralyzing anxiety is a huge benefit to strategy games, or maybe its reinforced by strategy games? oh dear. A friend suggested I play Into The Breach after he suggested he was addicted and told me it was free on the Epic Game Store for a holiday sale. They don't get much better than Into The Breach. The premise of Into The Breach is you're commanding a squad of giant mechs to defend civilian cities from giant insect invaders out to exterminate the human race. Reminder I love giant mech stuff. You often fail but you have time travel technology to give it another try. All of this takes place on grid map that is fully visible at all times. Before taking a turn and making a move the game will show you the impact of what action you take. If you make the action and regret it you have to opportunity to revert time and try the turn again. I did a full bender on Into The Breach over Christmas.
The Witcher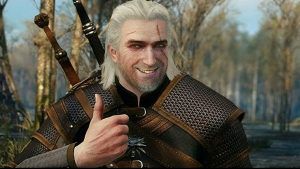 to be honest I'm playing this at the end of 2019 because I just binge watched the Netflix series and want more of the Witcher universe. I'm not even half way through it. I'm feeling a future post discussing whether or not the Witcher games hold up and are worth playing on the Netflix hype. My impressions so far are pretty swerve. I started playing expecting a medieval combat simulator like Mount & Blade. What I found was that the game is more like a point and click adventure. Combat is done by clicking on enemies and waiting for an animation to play out and clicking again. Some kind of weird World of Warcraft pseudo turn based combat.
2020
Thanks for reading and keep it Rad in 2020!
If you liked this content follow us on Twitter for more!